She is played by comedian/host/singer Rufa Mae Quinto.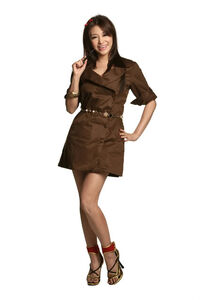 Francesca is one of the workers of the newspaper company Siklab Publishing Company. She serves as the funny assistant of Chief Crisanto. She has a secret crush on Crisanto. One time, she pretended to be Darna so she can experience being in the mantle. No one knew that the "Fake Darna" is Francesca. Shortly after, Gabriel told Francesca that Roma is the evil Demon Woman. Francesca promised to Gabriel not to tell anyone about this big secret. But Chief Crisanto overheard and forced Francesca to work with him to expose the truth (for sales). Then, Francesca dressed up as Darna and called Chief Crisanto to meet outside the company. The fake Darna was being funny to Crisanto and she would not show her face. Shortly after, she resigned.
Later, she returns only to find her position having been filled by Dina (TV3), who has a lot of similarities with her. She has a rival-type relationship with her which becomes a grudging friendship. She finds a wandering Vladimir and takes him in, unknowing he is a vampire. The encounter nearly kills her but what is worse is Vladimir turns Dina into a vampire herself. After the encounter, she leaves once more.
On her second return, she finds Crisanto enamored with Electra and is initially openly dismayed at her appearance, but intimidated by her power, appears to 'warm up' to her.
Ad blocker interference detected!
Wikia is a free-to-use site that makes money from advertising. We have a modified experience for viewers using ad blockers

Wikia is not accessible if you've made further modifications. Remove the custom ad blocker rule(s) and the page will load as expected.